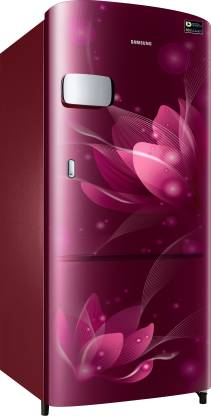 Samsung Fridge
---
Model:RR20R1Y2YR8/HL
Direct-cool refrigerator; 192 litres capacity
Energy Rating: 4 Star
Warranty: 1 year on product, 10 years on compressor
Direct cool, single door: Economical requires manual defrosting
Capacity 192 L: Suitable for families with 2-3 members
Shelf Type: Toughened Glass
Inverter compressor: Energy efficient, less noise and more durable
---
Digital Goods : You can see the download link after the payment. Please download and take printouts.
Physical Goods : Delivery charges are separate.
Digital Inverter Technology
Digital Inverter Technology automatically adjusts the compressor speed in response to cooling demand across 7 levels. It uses less energy, minimizes noise and reduces wear and tear for longer- lasting performance.
Smart Connect Inverter
Uninterrupted cooling to keep your food fresh even during power cuts. Connect Inverter enables the refrigerator to work even when there is a power cut in the house and the refrigerator has switched to back up power.
Stabilizer Free Operation
Its Stabilizer Free Operation means it works very steadily and reliably and prevents electrical damage or shorting if there are any voltage fluctuations. * If it increases too much it automatically cuts the power.

High Energy Efficiency
Samsung Smart Refrigerators with 4 star rating are one of the most energy efficient refrigerators thereby saving electricity and running cost.
Toughened Glass Shelves
Has toughened glass shelves that are designed and tested to hold a weight of up to 150kg safely. So even large vegetables, like marrows, or dishes prepared in heavy pots and pans can be kept cool and fresh.
Anti-bacterial Gasket
An Anti Bacterial Gasket helps keep the door liner clean and prevents the build-up of fungi and bacteria inside the refrigerator. So everything is more hygienic and food is less likely to go off quickly.